Solutions Triple Loft Bunk Bed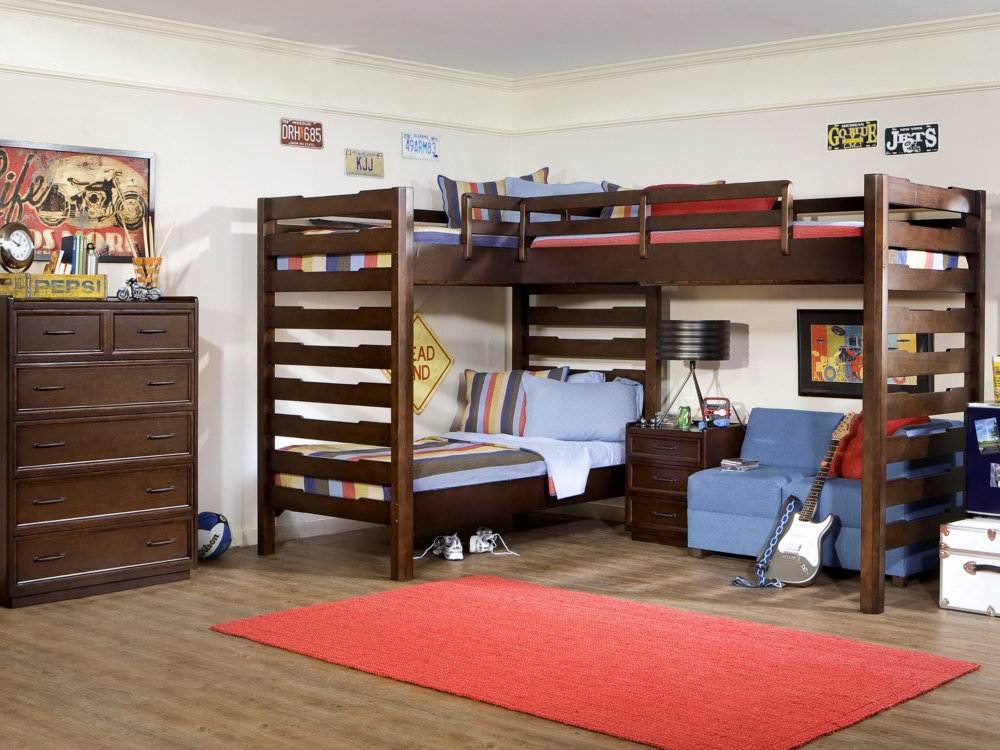 View larger and additional images
The Solutions collection is focused on a place to sleep, study and store things in a limited space. Cherry veneers and hardwood solids are enhanced with a warm brown cherry finish. The triple loft bunk bed features three twin beds with 7" double bolt-on bed rails and one piece wood posts for strength, durability and safety. Guard rails are included. The bunk bed ends can be used as a built-in ladder or an optional separate ladder is available. Maximum top bunk weight is 350 lbs for each top bed. The bottom bed rails may be adjusted at two different heights to accommodate optional under bed storage units. The triple loft bunk bed consists of tri-loft bed ends and side, siderails, guard rails and three slat rolls. Also available as a dual loft bunk bed.
Features
Tripleloft Bunk Bed Includes:
Tri Loft Bed Ends, Side And
Guard Rails, Slat Rolls
Brown Cherry Finish
Dual Loft Bunk Bed 9910418
Additional Attributes
Color/Finish: Dark
Material: Cherry, Hardwood
Size: Twin over Twin
Style: Casual, Contemporary/Urban, Traditional, Transitional
Type: Loft, Spindal/Slat
Collection: Solutions Collection
Sku : 9910407
Sale $799.99
Reg. $1,429.99
Enter ZIP Code to Check Availability and to add this item to your cart.
Shipping & Availability
Delivery
Please enter zip code above to view delivery information.
Available for Pickup In
Please enter zip code above to view availability.
Displayed In
Minneapolis/St. Paul
Also in this Collection
This item is also available in these packages