Hermantown, MN
Contact Information
hours

Mo
Tu
We
Th
Fr
Sa
Su
Store

monday

10a-9p

tuesday

10a-9p

wednesday

10a-9p

thursday

10a-9p

friday

10a-9p

saturday

9:30a-8p

sunday

11a-6p

Pick-Up Center

monday

tuesday

11a-8p

wednesday

11a-8p

thursday

11a-8p

friday

11a-8p

saturday

11a-6p

sunday

11a-5p

address

4726 Loberg Avenue




Hermantown, MN

55811

phone

(218) 279-8300

join us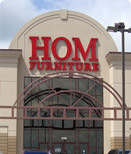 Hermantown HOM Furniture
Live your best life with quality Hermantown home furnishings for all design styles. Find great prices on even greater furniture when you shop with us at HOM Furniture. And Duluth, we're talking about you, too!
HOM Furniture is proud to serve customers from Hermantown and Duluth, Minn. and surrounding areas including Brainerd, Hibbing, Bemidji, International Falls, Grand Rapids, Two Harbors, Ironwood as well as Superior and Ashland, Wis.
This page is designed to give you a taste of the amazing variety we offer. Come visit us in our beautiful store located right off of U.S. Highway 53 in Minnesota and discover the HOM difference. We pride ourselves on our outstanding service and quality products including patio sets, bedroom furniture, living room furnishings. Attentive but never pushy, our sales associates will listen carefully to your needs and then use their expertise to suggest the best options to suit your style, taste and budget.
Popular In-Stock Furniture Brands
Bauhaus, Lane, Ashley Furniture
What's in Store
HOM World Rugs

With city surroundings that are a mix of neighborhood and idyll landscape, your HOM deserves flooring that can keep up. Shop in-store and online for our great selection of rugs and carpet in thousands of styles and colors. We have combed the world to bring you the best in brand-name carpets and rugs.

Seasonal Concepts

Whether you're in the city or the suburbs, HOM has the outdoor seasonal furnishings to fit your porch, patio, poolside or other outdoor living space. Shop our selection of outdoor seating, dining, and more. Plus, get ready for the holidays with our large selection of trees and décor.

Uptown Urban Furnishings

Get the Duluth city feeling at your HOM in the suburbs. Shop our collection of Uptown Urban furnishings. Whether you want something sleek and modern, or kissed with a hint of shabby chic, we have all the moving parts and accent pieces that add that fabulous finish.

Magnolia Home by Joanna Gaines

Rustic charm meets a string of pearls in Joanna Gaines' Magnolia Home collection. Shop her different style genres like Boho, Mid-Century Modern and more to get the look you've been dreaming of.

Rachael Ray Home

For unfussy, multi-use furniture, look no further than the Rachael Ray Home gallery. To be even more efficient, use our room planner online tool to design before you buy!

Thomas Cole Designs

Thomas Cole Designs is a collection of quality furniture and made-for-comfort mattresses available exclusively at HOM Furniture. Take advantage of our direct partnerships with top furniture and mattress manufacturer's worldwide, and shop these incredible values found only at HOM.

Fine Furniture

Across the county from the finest Great Lake is the superior-quality fine furniture of HOM. Shop our Fine Furniture collection for great pieces of fine furniture that you and your neighbors will love. Get versatile seating with a good mix of chairs, ottomans and loveseats.

Amish Craftsmen

It doesn't get much more beautiful and durable than a dining set handmade by Amish Craftsmen. Shop our HOM selection today and be ready to host the next family holiday dinner. Or just prepare for family dinners for years to come. These incredible pieces are built to last.

The Market Home Accents

If you're going for a sleek, modern look, then a minimalist living room is the perfect choice. But if your room simply feels empty, why not opt for a piece of accent furniture from HOM? Shop our expanded variety of chests, cabinets and other storage that make a small room feel bigger with creative organization. You'll be amazed at the difference our home accent furniture and decorative accessories can make.

HOM Baby

Neaten up your nursery with HOM Baby furniture. Shop dressers, daybeds for the older set, bedside tables and more for versatile pieces that offer great storage options.

Bargain Shop

Is your kid's dorm room going to be their next HOM away from home? Stop by in-store or shop online for great discounts on clearance items that would be perfect for a stay at any university. Bargain hunters can also find great items for their home, lake cabin and more at our HOM Bargain Shop.

Sleep Express

No place says HOM quite like your own bed. Make sure your mattress is comfortable, too! Shop our collection of innerspring and memory foam mattresses for the restful slumber you look forward to each night. Pick from premium brands like Tempur-Pedic, Serta and Aireloom. You can also upgrade your bed with an adjustable bed base, offering many ergonomic positions, easy remote control and even multiple massage settings. Don't' forget pillows and bedsheets!

Cookie Shop

Feeling peckish? Drop by our in-store Cookie Shop for a freshly baked snack while you shop! Relax and unwind with a complementary chocolate chip cookie and beverage. We also offer a featured cookie of the month.
Recent Reviews for Hermantown, MN
10/09/2018
such a nice store. so bright and clean. very friendly and helpful staff. Cheery place to walk around on one of our many dreary days.
10/07/2018
A really great salesman-no pressure on the sale. Very knowledgeable on the product we were purchasing.
10/03/2018
I was provided great customer service while shopping in your store. Thanks.
10/01/2018
Very friendly and helpful
09/30/2018
Very patient and helpful.
09/29/2018
The area rug expert was VERY helpful!
09/26/2018
Our salesperson was very helpful
09/22/2018
I have purchased many items from your store and have always been happy with the furniture and how helpful staff was
09/21/2018
The gentleman that greeted us and helped us throughout out time there also traveled up and down the stairs and took pictures of dining chairs he thought we would like. Because of this, my husband found the perfect chair!
09/21/2018
HOM has excellent products
09/19/2018
Everyone was very friendly and helpful.
09/18/2018
Iâ??ve come back to HOM many times because of satisfaction with the products and employers.....
09/16/2018
Service counter staff were welcoming and professional. I was impressed with everyone I encountered from the time I walked through the door until I left. Excellent experience!
09/16/2018
Very helpful and knowledgeable.
09/16/2018
I would definitely buy from hom again
09/15/2018
Prices are comparable and even better than other place's prices who are selling at "reduced" or "sale" priced pieces.
09/14/2018
They are over-the-top accommodating with answering questions or finding answers if they don't know it, will get right to a problem, explain what can or can't be done or get me right to customer care to fix the problem. Always a smile always asking questions to better serve your needs.
09/12/2018
I was very satisfied with the service, and the of my recent purchase. Plus it had to be ordered, and it arrived when it was supposed to!
09/09/2018
Very satisfied, excellant service!!!!
09/08/2018
Service is great along with the products!
09/07/2018
Bought my leather furniture from them (MPLS) 18 years ago and will be dealing with HOM when we replace them this year.
09/03/2018
Staff were available to me but not hovering. Very pleased with their service.
09/03/2018
I cannot recall the name of the associate I worked with, but he was able to help me problem solve and, ultimately, find a couch that would fit through a narrow entryway. Had he not been so knowledgeable about the products available, I wouldnâ??t have made a purchase. He was a pleasure to work with.
09/02/2018
Very helpful and not pushy. Gave me many options for payment with savings, I appreciated that.
09/01/2018
Every time Iâ??ve been to home furniture, I have been greeted warmly and asked In a timely manner if there is any way that I can be assisted to find what I need.
09/01/2018
My sales person was extraordinarily helpful, caring and competent.!!!
08/30/2018
All the staff was very friendly
08/28/2018
Great selection and knowledgeable employees
08/26/2018
Explained what we were looking for and salesman showed us different options in the bedroom sets we were looking at. Very happy and will be going back next time we have furniture needs!
08/24/2018
They were not pushy but very helpful.
08/22/2018
Our salesperson was extremely helpful!
08/21/2018
Always a good experience shopping at HOM. The friendly and helpful staff are appreciated. HOM is my go-to store.
08/21/2018
Helped me right when I walked into the building and brought me to where and what I was looking for. Also, at a great price!
08/19/2018
Right when I walked in, I was greeted and helped with my immediate needs. On top of that, Very professional, helpful, and knowledgeable.
08/19/2018
Staff member that helped us was very helpful and accommodating - she went over and above.
08/18/2018
Helpful with giving you space to talk and make a decision.
08/18/2018
Great knowledge of the products and sales.
08/12/2018
We went to several other retailers and kept coming back to HOM. I was very comfortable with the employees and didn't feel over pressured or un-assisted at any point.
08/10/2018
The sales rep was very friendly and helpful with our looking for the item we needed.
08/09/2018
Staff person was very helpful
08/07/2018
I purchased all of my items that I had found online over the phone with a salesperson. I had a great experience. I ended up having to change my order and delivery date and she was great helping me with this. Everything went very smoothly. I would definitely purchase with Hom again.
08/07/2018
Knew EXACTLY what to show me based on wants/needs.
08/06/2018
I was there twice within 5 days. We were greeted and asked if we needed assistance. We stated that we were browsing. We liked that we were able to do that. We had no problem talking with staff when we had questions. Very friendly and knowledgeable.
08/05/2018
What is great is that there is teamwork. If someone is not sure of an answer, they will reach out to their coworkers for the correct answer rather than misleading a customer for a sale. We love HOM Furniture, just wish there was one closer to us near Green Bay, WI !!
08/05/2018
I only shop Hom because they are helpful, knowledgeable and listen to what the customer wants!
08/05/2018
I recommend your service and selection to every one AND I drive over an hour to come to you. Thank you
08/03/2018
Wasnâ??t attacked by salesman just asked if we needed help and pointed us in he right direction. Wasnâ??t pushy which is good.
07/31/2018
We were -very- happy with our experience.
07/20/2018
Easy to get questions answered without feeling pressured.